Today I'm happy to release the first big SnipNotes update in 2019. This update has been in the works for over three months and adds a whole bunch of new features to SnipNotes. It also improves on existing features and lays the groundwork for an eventful year 2019. Let's get started! ?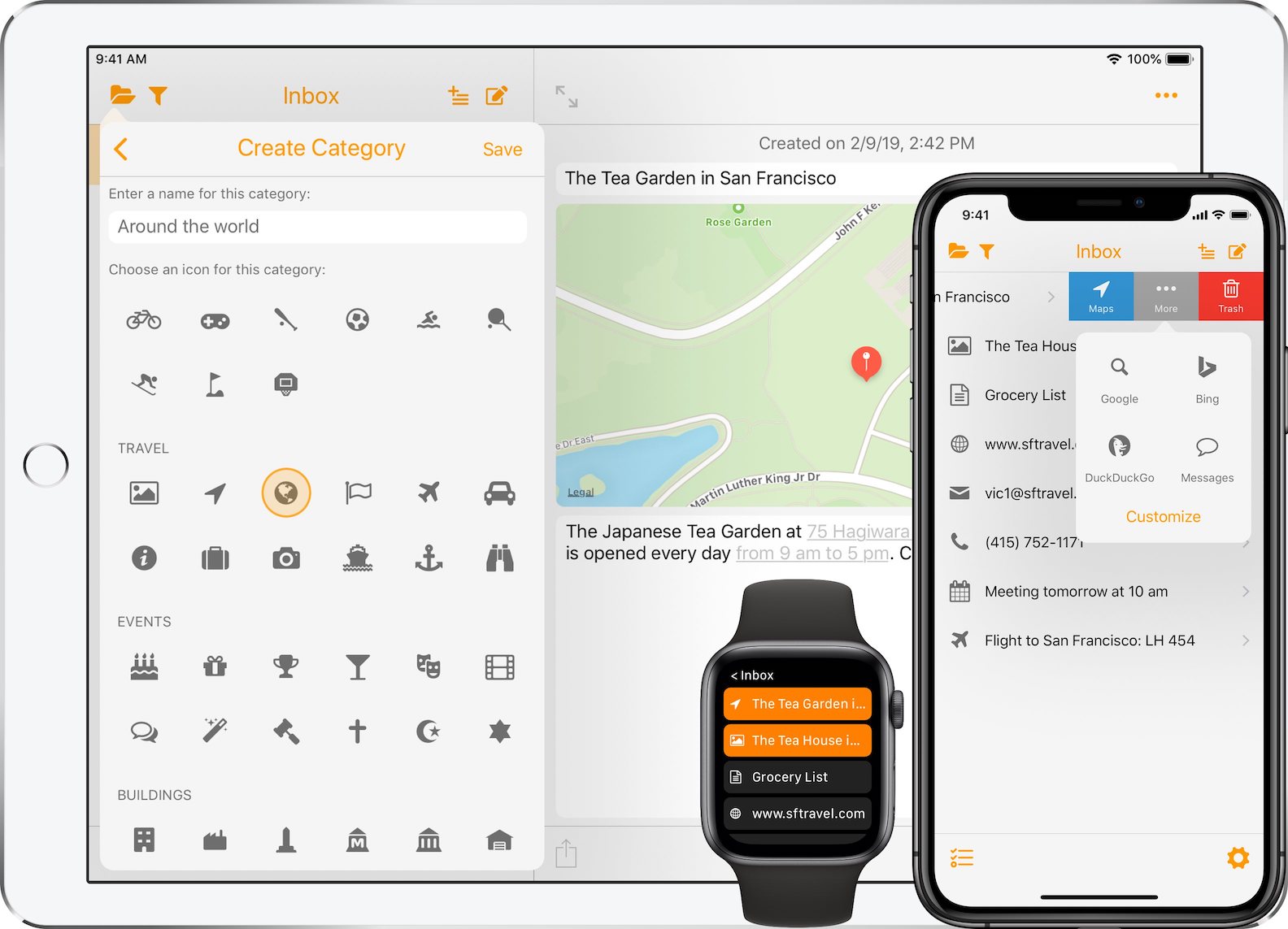 Note Actions (iOS)
Note Actions have been available since the introduction of SnipNotes 2.0 in 2016. While they proved to be very useful in many situations, their UI has always been a bit messy. The buttons were small and hard to press, the settings screen was cluttered. This all changes today: Note Actions have been completely overhauled.
You can now swipe both left and right on a note to access a total of six buttons. Four of them are static, but you can change their order in the settings menu:
Move note into trash
Pin note to the top of the list
Copy note into clipboard
Move note into archive (see below)
The remaining two buttons are dynamic:
The blue button shows an action depending on the content of your note. If you have saved an address for example, you can quickly open Maps to begin navigation.
The gray "More" button reveals a popover with additional actions for the note. These actions are available for all types of notes and allow you to quickly use your notes with other apps. For example, you can search a note with Google in Safari, put it into an email or open it in apps like Evernote, Bear, Drafts and Day One.
Both the content specific actions and the generic text actions can be configured in the settings menu. The settings UI should also be much easier to understand and use. ?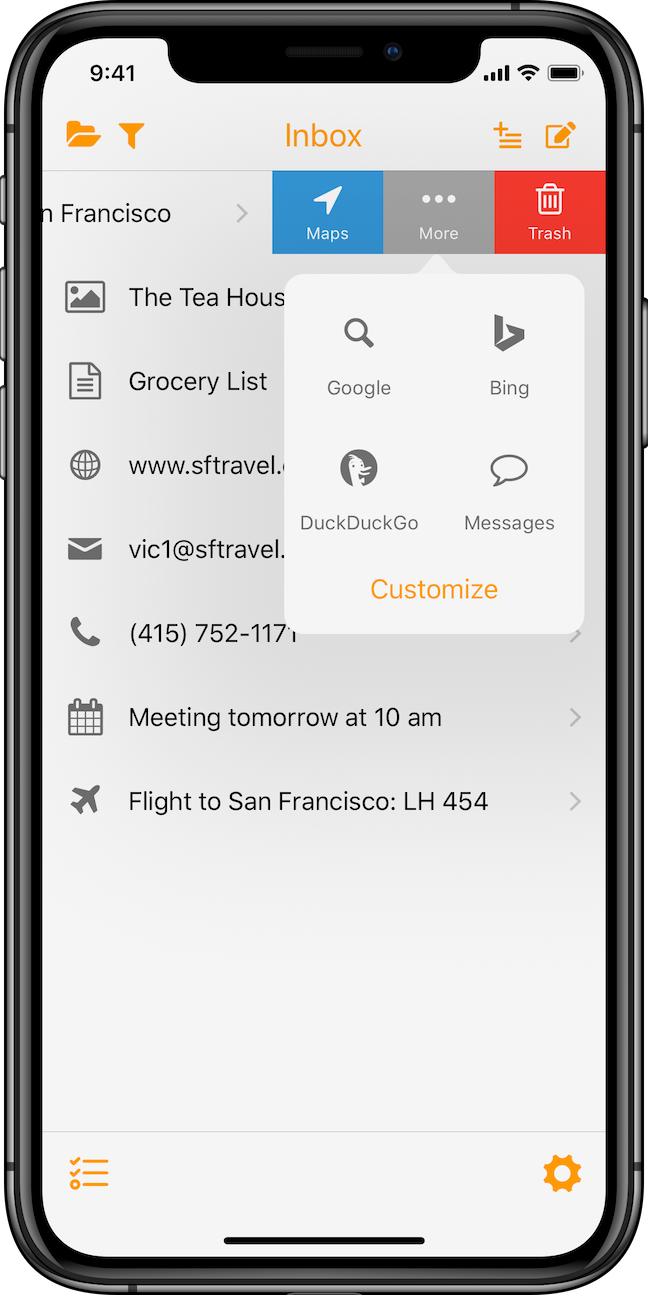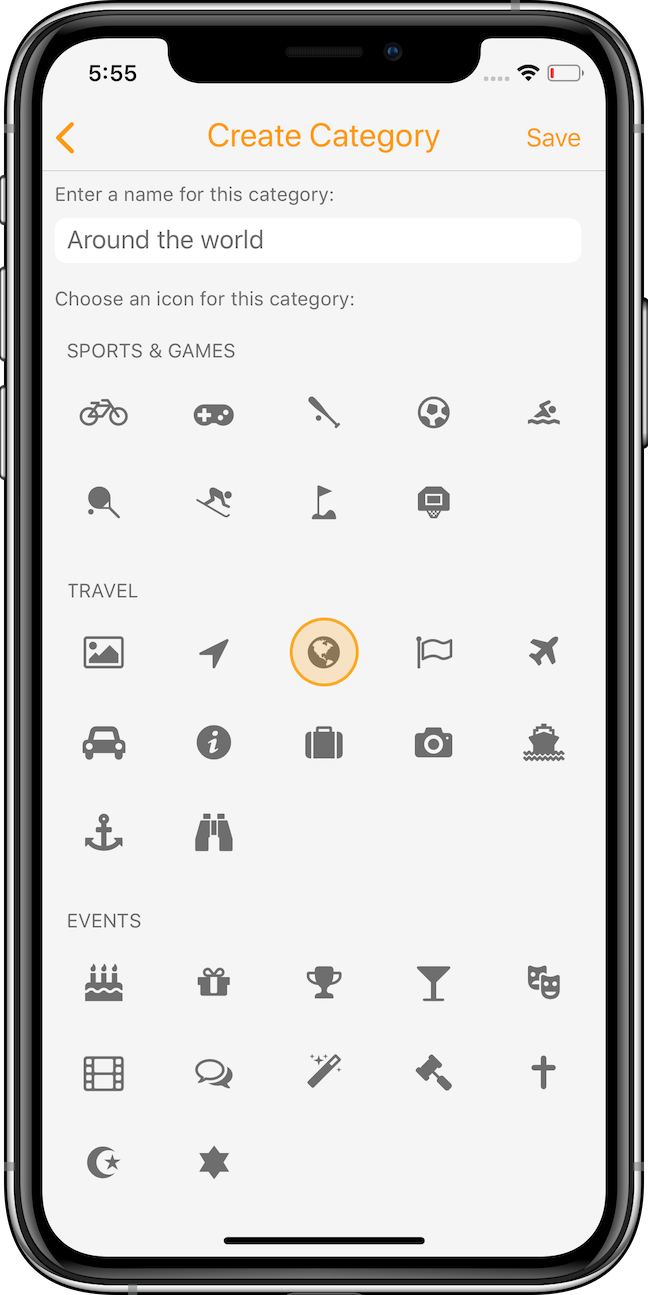 Category and Note Icons (iOS, macOS)
One of SnipNotes' biggest strengths has always been its customizability. You can choose from a variety of theme colors, customize many parts of the app with the comprehensive settings menu and select your own category icons. The latter part will get a lot more interesting with this update…
First of all, there are over 50 new category icons from a wide spectrum of topics like sports, events and travel. The icons have been organized into multiple sections to ensure a good overview.
Second, you can now also change the icon of your notes! Since the icon is no longer needed to trigger an action (remember the blue button), you can now easily replace it with something better suited to represent your note. All category icons are also available for your notes. They synchronize over iCloud and are always up to date on all your devices.
Note Archive (iOS, macOS)
There is a new archive for your completed notes. Notes in the archive disappear from your main list but are still synchronized with iCloud. Swipe right on a note to quickly move it into the archive.
Modify Note Dates (iOS, macOS)
You gain more control over the order of your notes. While there is no manual sorting yet, you can now change the creation date and modification date of a note. In addition, notes will only get marked as modified when you change their contents or the title.
Improved Undo (iOS)
Various note actions like delete, move, merge and archive will now display a status bar at the bottom of the screen, which you can use to undo the action. Of course, you can still undo actions "the classic way" by shaking your device.
Tip Jar (iOS)
Last but not least, there is now a tip jar in the settings menu. If you enjoy the app and want to support the future development of SnipNotes, I would appreciate a small tip. Thank you!
But that's not all. There are a couple of improvements to existing features as well:
iOS

Added note actions for the following apps: Bear, Drafts 5, Day One, Todoist, Things 3, Ulysses, iA Writer, Waze and HERE We Go
The swipe actions are now also compatible with VoiceOver

macOS

You can now add images directly from your iOS devices: Click on the "New Image" button and select "Import from iPhone or iPad". This functionality requires macOS Mojave

All platforms

"Favorite notes" have been renamed "Pinned notes". The star symbol has been removed. The note icon is now tinted instead
Added support for right-to-left languages