In line with the release of iOS 12, I'm happy to announce a big update for SnipNotes, which takes advantage of the operating system's new features. This update focuses on the integration of Siri Shortcut, which lets you automate frequently used actions and trigger them with your voice.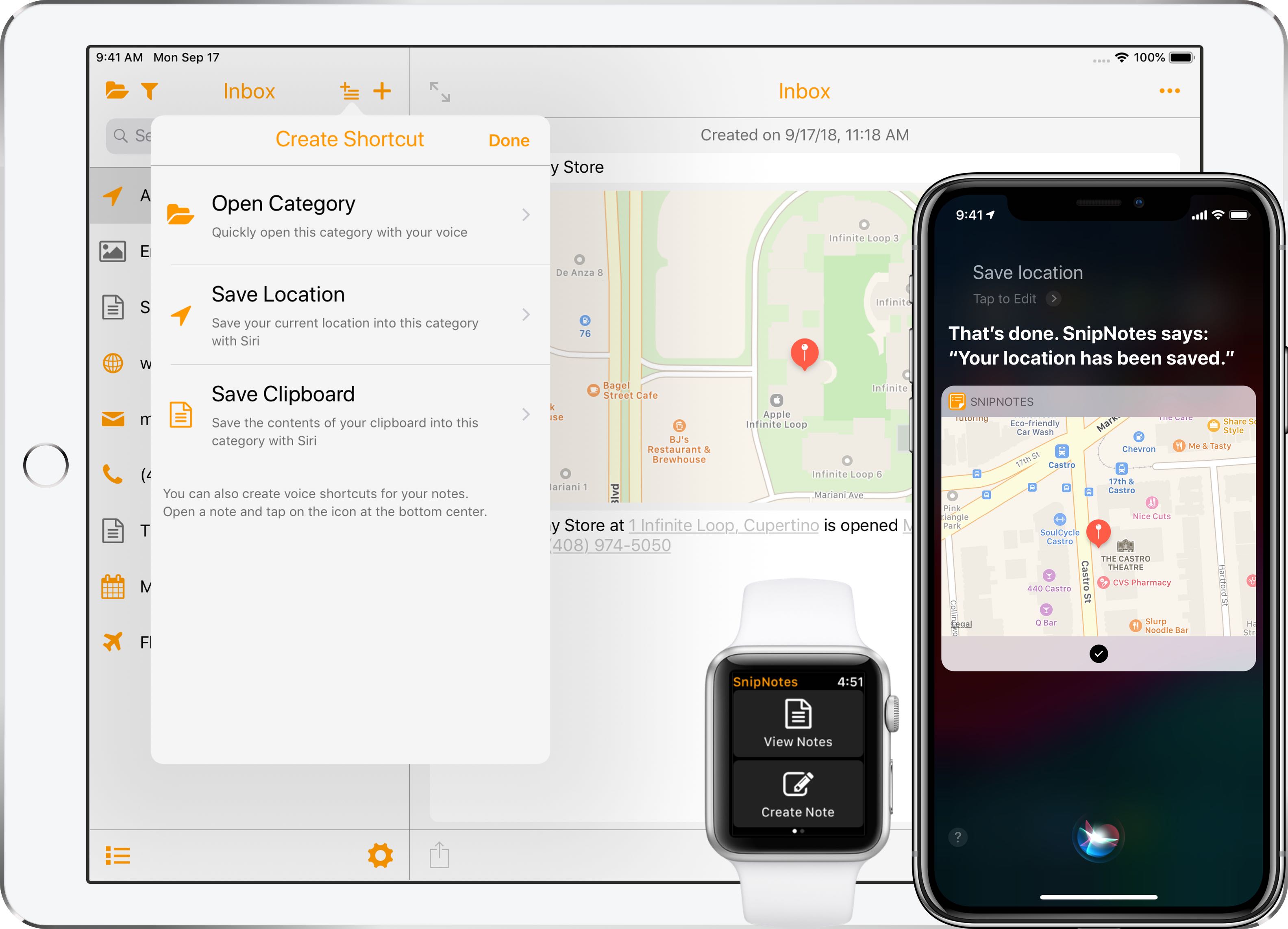 Siri Shortcuts for Notes
At the bottom of a note, you'll find a new button: Create shortcut. This will open a menu with multiple options:
Pin Note to the top of the note list (previously favorite)
Generate External Link: Paste this link into another app (e.g. a calendar) to quickly return to the note from there
Open Note with Siri: You can record a voice command to open this note with Siri
Read Note/Show Image with Siri: Siri can read text notes and show images, without having to open the app. This is very useful when you're using AirPods or a HomePod for example.
Siri Shortcuts for Categories
There is a new button in the list of notes, which combines the various options for creating new notes previously scattered across the app. This menu also allows you to create Siri Shortcuts:
Open Category with Siri: You can record a voice command to open a category with Siri
Save Current Location: Say this shortcut to Siri and it will save your current location in the chosen category
Save Clipboard: Similar to "Save Current Location", this shortcut will save the contents of your clipboard in SnipNotes without having to open the app
Siri will also suggest shortcuts for actions that you perform frequently on the lock screen, in Siri settings and on Apple Watch.
Other Additions
The share button now gives you the choice to export your notes as formatted text, plain text or markdown
The edit and category buttons at the top right of a note have been merged into a single button, which also allows you to disable formatting and content detection for a note. You can of course still tap into the text of a note to quickly start editing
The collection of anonymous usage statistics and crash reports can now be disabled in the privacy section of the settings menu. I've updated the privacy policy to reflect this change
I've fixed lots of bugs and improved the performance, especially when searching for notes
Thanks for reading and have fun with the new update! If you have any questions or feedback, please feel free to get in touch with me.