"TipNotes" is a new series on this blog with useful tips & tricks on how to get the most out of SnipNotes.
SnipNotes is a powerful tool for capturing thoughts and ideas. As your notebook grows, search becomes more and more important. Let's take a closer look at your options for quickly finding notes:
Search Bar
Scroll to the top of your notes to reveal the search bar. Enter a search term and SnipNotes will show all matching notes. Tap on a search result and SnipNotes highlights all matches within that note.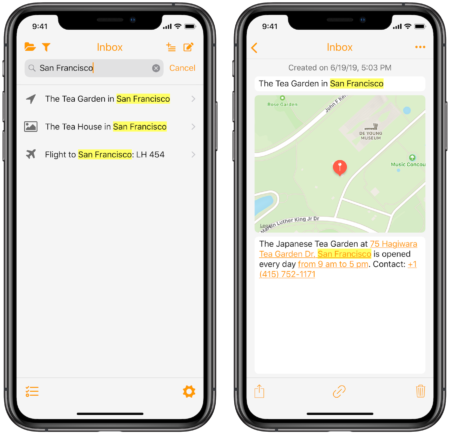 The search is limited to your current category. Open the category menu in the top left corner and select "All Notes" to search through all your notes.
Spotlight Search
Swipe down on your home screen to reveal the Spotlight search. Here you can search for all kinds of information, including notes from SnipNotes. Tap on a note to open it directly in the app.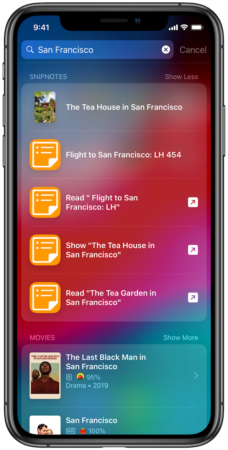 Siri
SnipNotes integrates with Siri and lets you create new notes as well as search for existing notes. Open Siri and say something like
Show me notes in SnipNotes that contain San Francisco
Siri will present all matching notes in a list.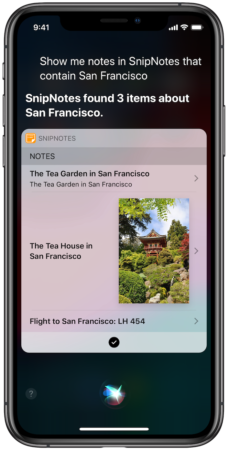 Search on Apple Watch
If you don't have your iPhone or iPad handy, you can also search for notes on your Apple Watch. Open the app, swipe to the left and select "Search Notes". SnipNotes will show and highlight all matching results.
Search on the Mac
Search on macOS works mostly the same way as on iOS. You can use the search field in the upper right corner or open Spotlight Search by pressing ⌘ + Space. Siri on the Mac cannot integrate with third-party apps yet, unfortunately.