Today I've released two new SnipNotes updates for iOS and macOS. These updates contain a lot of bug fixes as well as performance improvements and will most likely be the last updates before the big SnipNotes 3.0 release.
The iOS version has also gained a few new features and improvements, which I want to share with you in this post.
New First Run Experience
The old introduction was a series of static pages with text and images. This approach had a number of problems:
The user didn't get a chance to see the app before the introduction popped up. It was hard for him to understand and remember all this information without context
The available space on these pages was very limited because it also had to fit on small screens like the iPhone SE
The information and the screenshots quickly became outdated
In this update I've decided to take a slightly different approach to onboarding new users:
On the first launch, the user is greeted by a welcome screen. This single page briefly explains the trial period and offers a quick tutorial
The tutorial consists of a number of coach marks, that teach the most important aspects of SnipNotes. They hover above the interface which should help with context
The tutorial concludes with another modal dialog, that points the user to a quick start guide in the settings menu. This separation gives the user a chance to play around with the app before continuing to read
The quick start guide is a more detailed introduction to various areas of SnipNotes. On iPad, users can put this guide side-by-side in another window and follow along more easily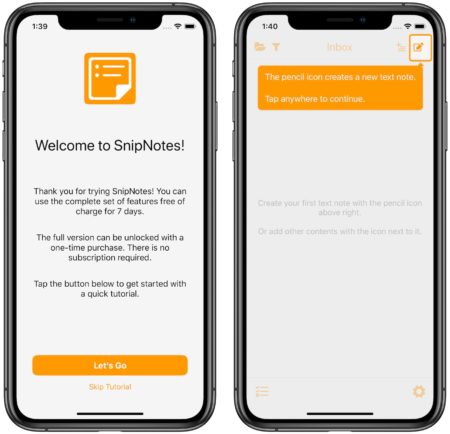 Improvements to the Settings Menu
While the settings menu might be the most boring part of many apps, it is actually a vital aspect of SnipNotes. There are hidden features in its many layers, which might stay unnoticed forever by some users. My goal with this update is to surface some of these features and to also provide convenient access to the most frequently used settings.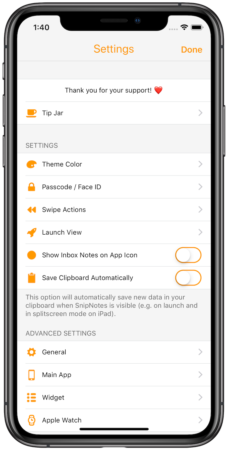 This update also adds a number of minor (and long overdue) improvements to the settings menu:
There is now a "Done" button for picker wheels
Long labels will no longer truncate on smaller screens, but shrink instead
Rows now have a better contrast to the background
Removal of Analytics Tools
My goal with SnipNotes was never to track your behavior or to collect data from you. I don't have (or want) access to your notes. They are all securely stored in your iCloud account.
In the past, I've used crash-reporting and analytics tools from Twitter (later bought by Google) to investigate crashes and better understand which features are used most frequently. This functionality could always be disabled in settings and was in fact disabled by default for quite a while now.
In this update, I've made the final step and removed all third-party analytics tools from SnipNotes. This results in smaller download size and improved privacy protection. I now rely solely on Apple's own crash reports and analytics tools as well as reports and feedback from you.
Other Improvements
You can now disable the swipe actions for notes
When you delete a category, SnipNotes will now ask you for confirmation
This update also improves performance and resolves a lot of minor issues
Thanks for reading! If you enjoy using SnipNotes, please consider a rating or a review on the App Store. Thank you!