It's now exactly one year ago: On February 27th 2015 SnipNotes first saw the light of the App Store! Since its humble beginnings the app has grown quite a lot. It has received several major updates which included features like image support, an app for Apple Watch and splitscreen multitasking. Thank you all for your great support!
The biggest updates is yet to come. The beta is already running (you can still sign up as a beta tester) and today I'm releasing a new beta update which includes a brand new watch app and support for passcodes / Touch ID!  Read more about the details after the break.
Watch app
What comes first to your mind when you think about watch apps? For me it's the little spinning wheel which shows up after each and every tap on the screen. That's very annoying because interactions with the watch should be quick and easy. The reason for that is most watch apps still use an old architecture, where a part of the app actually runs on iPhone and the watch has to communicate constantly to fetch and display data. The new SnipNotes for Apple Watch runs natively on the watch itself, which has the following key advantages:
The app is now drastically faster because there is less communication with iPhone.
You can use your notes while your iPhone is out of reach. You can even add new notes by voice or location as long as your watch has an active WiFi connection.
You now also have more ways to interact with your notes. You can call phone numbers directly from your watch, start navigation to an address or delete notes right away.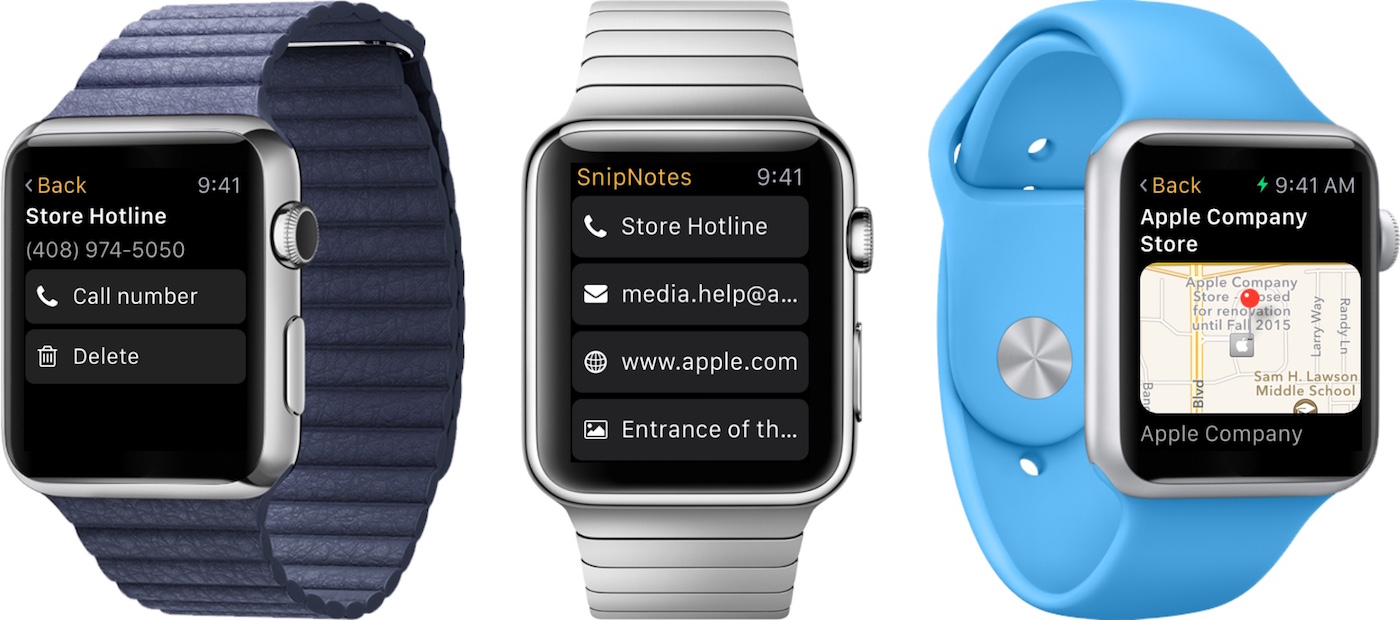 Passcode / Touch ID
In settings you can now setup a 4-digit passcode to secure your notes. Each time you open the app SnipNotes will prompt you for this passcode so no one else can get access. If your device has a Touch ID sensor, you can also use your fingerprint to unlock the app.
Auto saving
When you create or edit a note, SnipNotes will now automatically save your input. So if you forget to hit save or the app crashes, your input will still be there the next time you launch SnipNotes.
Auto import
SnipNotes can now save the contents of your clipboard automatically every time you open the app and/or the widget. This feature is disabled by default, you can enable it in settings. Passwords from 1Password will be ignored.