SnipNotes 2.2 has arrived on the App Store today! This update takes full advantage of 3D Touch, gives you more ways to create notes and optimizes the app for iOS 10.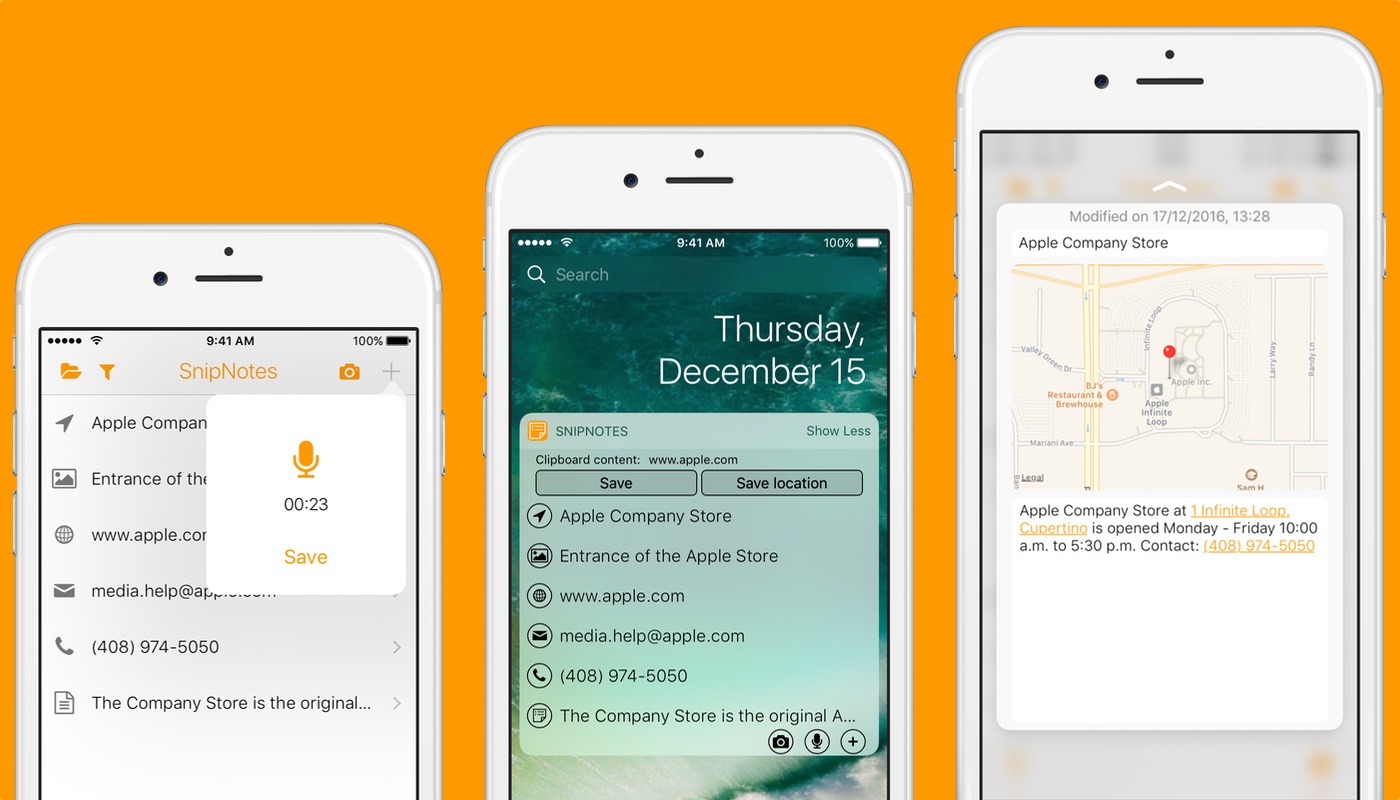 For a limited time, SnipNotes is available for just 99 cents!
3D Touch
With 3D Touch, iPhone users (starting from iPhone 6s) can take advantage of useful features by hard pressing on the touchscreen. SnipNotes offers a preview functionality for notes and categories: Press on a note or category to show a preview. Press a little harder to open your selection or lift your finger to return to the list. In addition you can swipe up the note preview to show a set of useful actions (e.g. share a note or assign it to a category). This technique also works for recognized content within a note. For example you can show a preview for an address or a website.
On the home screen you can hard press on the app icon to show a set of quick actions. You can quickly create or dictate a new note (see the next paragraph) und access your most recently viewed notes.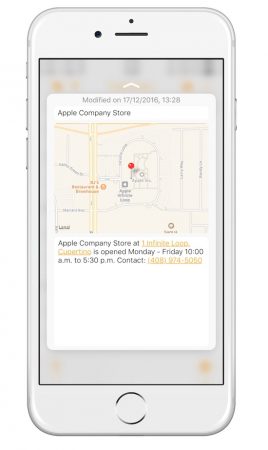 3D Touch
Better note-taking
Until now the main app allowed you to manually create notes and save images from camera or your photo library. Starting with this update you have more options to save information. Long press on the plus button (or use 3D Touch) to show the extended create menu. It contains the following options:
You can dictate a note with your voice. A small window with a microphone symbol will open and you have 30 seconds to dictate your note. Tap on the microphone icon to pause your recording. After you press on "Save" your recording will be converted into text and saved as a new note.
You can save the contents of your clipboard as a new note. You already know this feature from the widget, now you can also use it inside the main app.
The third option is quite similar: You can save your current location. This feature is also already available inside the widget and on Apple Watch.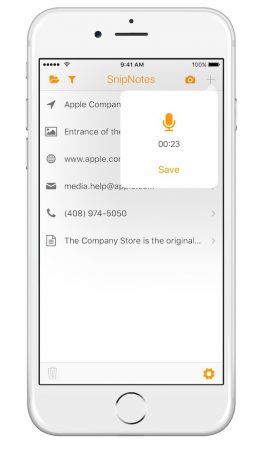 Dictation
Updated for iOS 10 and watchOS 3
Of course SnipNotes has also been updated for the new operating systems iOS 10 and watchOS 3. Especially the widget received some updates to reflect the new design and color scheme. It now uses a dark tint color on a bright background. The minimize button has been removed, because this functionality is now included in iOS: In compact mode you see the save and create buttons as well as the topmost note of your list. Tap on "Shore more" to reveal your remaining notes. As before you can configure the number of notes inside settings.
The watch app receives a complication for quick access right from the watch face. Bigger changes are scheduled for an upcoming update.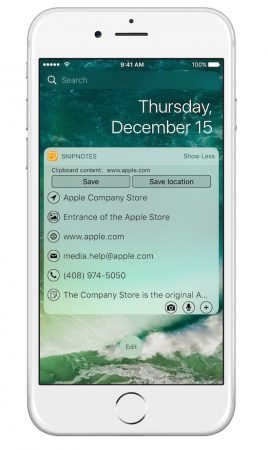 New widget design